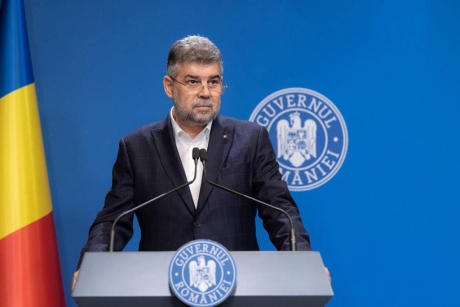 PM Ciolacu: Implementation of decision on recognition of Romanian language in Ukraine depends on logistics, it is a country at war
In keeping with the agreements reached with the Kyiv authorities, Ukraine has recognised Romanian as the official language of the Romanian minority on its territory, prime minister Marcel Ciolacu told private broadcaster Antena 3 CNN on Wednesday evening, adding that the full implementation of the decisions in this regard is currently hampered by the fact that the neighbouring country is at war.
He was asked on Wednesday evening, on the Antena 3 CNN private broadcaster, about the fact that Moldovan-language textbooks have been published in Ukraine, despite the fact that there was an official announcement, after the joint meeting of the Romanian and Ukrainian governments in Kyiv in October, that the Moldovan language is being abandoned and Romanian is recognized as the official language of the Romanian minority in Ukraine.
"We are talking about a Ukraine at war. (…) Last night I was very upset. I also called Ukraine, as expected. I also had the foreign policy advisor make phone calls to see what was going on (…). And I found out the truth. Those manuals had been sent to the printers. I repeat, we are talking about a country at war, in a certain area. Some of them have been changed, but Ukraine has officially recognised it," Ciolacu said.
The prime minister confirmed the conclusion, given what has been shown, that it is "a logistical problem that they could not print new textbooks".
To back up his words, he added, referring to the Kyiv government's decision on the recognition of the Romanian language: "We have all the documents".
AGERPRES