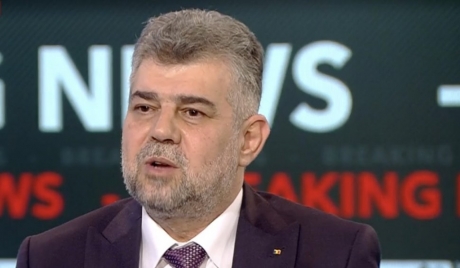 PM Ciolacu says he'd resign if liberals quit ruling coalition
If the National Liberal Party (PNL) quits the ruling coalition, then the current premier, Marcel Ciolacu says he will resign.
"No coalition breaks and no government falls. If this coalition breaks, I tell you very clearly, it means that this political project that I accepted, and my colleagues accepted it in a difficult moment of Romania – let us not forget what it was two years ago – in a manly discussion between me and (PNL) president Nicolae Ciuca, definitely, if anyone will leave this coalition, I will take my mandate to (presidential palace) Cotroceni, without any reservation," Ciolacu told private broadcaster Antena 3.
Asked to comment on the statements of PNL first vice-president Rares Bogdan, who recently criticized the Social Democratic Party (PSD), Ciolacu accused the liberal leader of "dynamiting" the coalition "with fake news" to cover discussions about the fact that he went to the market with a 30,000-euro watch on his wrist.
"We sat in the coalition meeting on Monday for almost five hours and discussed several government issues, because a coalition decision is needed. And that's normal. I don't hide the fact that many of the issues that arise in the government are not discussed between me and president Nicolae Ciuca. But it's normal to meet. As long as you didn't comment anything for five hours, on the contrary, you got your information, as is normal, as a politician, and after a few hours you go out into the public space, actually and rightly trying to cover up an unfortunate gesture; so, you go to the market with a 30,000 euro watch on your wrist, to buy parsley – it's normal that the Romanian revolts, he's justified – instead of going out and explaining: 'I've received it as a gift from my wife, my wife supports me and she gave me the watch as a gift, my father-in-law gave it to me at the wedding'. I suppose it was much more correct," Ciolacu argued.
The prime minister added that Rares Bogdan "is not a stupid man", but that if he tries to "dynamite the coalition" with fake news, he is "irresponsible".
According to him, it is not a suitable moment for "breaking news with fake news", in the context of the wars in the Middle East and Ukraine and the recession in the European economy.
He added that on Thursday he will have a meeting with the leader of the PNL, Nicolae Ciuca, in which topics such as: the construction of the budget for next year, the situation of teachers, the budget of the Ministry of Health, the reform of the administration will be addressed.
AGERPRES