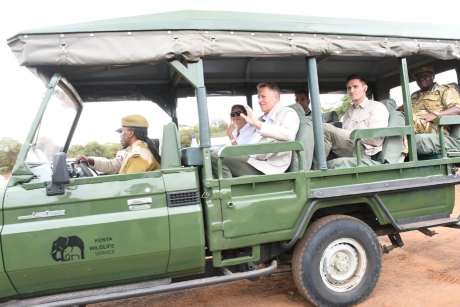 President Iohannis in Kenya presents Romania's donation for Uthiru Girls High School
President Klaus Iohannis, on a state visit to Kenya, presented on Thursday Romania's donation to Uthiru Girls High School, stressing that our country will continue the projects dedicated to education.
"Very happy to visit today the Uthiru Girls High School in Kangemi, Kenya today and inaugurate the donation through our Romanian Official Development Assistance Program. We will continue to focus on implementing grass-root projects, for inclusive and qualitative education," the president wrote on platform X (formerly Twitter).
The donation consists of 30 laptops and school supplies.
The Romanian president has begun his state visit to Kenya on Tuesday. President Iohannis's African tour will continue on Friday in Tanzania, where he will have a meeting with his counterpart, Samia Suluhu Hassan.
AGERPRES
Very happy to visit today the Uthiru Girls High School in Kangemi ???????? and inaugurate the donation through our Official Development Assistance program????????. We will continue to focus on implementing grass-root projects, for inclusive and qualitative education. pic.twitter.com/lTESh8VSB4

— Klaus Iohannis (@KlausIohannis) November 16, 2023