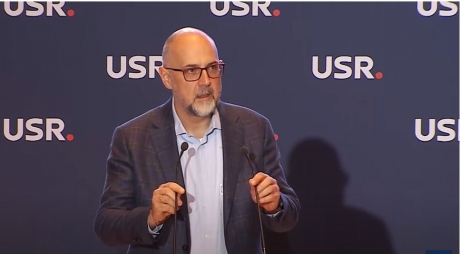 UDMR's Kelemen: UDMR disagrees with central level interference with local administrations
The Hungaraian Democratic Union of Romania (UDMR) disagrees with the central government interfering with the activity of local administrations or the merger of cultural bodies, and the percentage should be applied uniformly as far as management positions go, UDMR national leader Kelemen Hunor said on Tuesday, told Agerpres.
He and UDMR senators and MPs had a first round of talks with Prime Minister Marcel Ciolacu at the Parliament Palace, also attended by ministers, regarding the tax measures the government wants to pass by taking responsibility for them before Parliament.
"I had observations related to local administrations, first of all, and some observations on taxation, much less than on local administrations. First of all, of course, it is very important to have such a discussion between the government and Parliament and all parliamentary groups, when it comes to taking responsibility – which is a constitutional procedure – but it bypasses a real debate in the Romanian Parliament. Therefore, such a discussion is absolutely necessary. At the beginning of the meeting, there were some political considerations from Prime Minister Ciolacu and from my part related to the national government deficit and the discussions with the European Commission related to grains from Ukraine, and the Schengen area," Kelemen said at the end of the discussions.
According to him, Ukraine has to be helped, but Romanian farmers cannot be "destroyed."
"Of course we have to help Ukraine, but we cannot destroy the Romanian farmers and, therefore, everything that enters Moldova must be checked if it is really produced in Moldova or if it is produced in Ukraine. (…) On the other hand, it has to help Ukraine reach third countries, especially in Africa, with grain, and sales must not happen in Romania on the Romanian market, if we do not want to destroy Romanian farmers, and I don't think anyone wants that."
During the discussions, UDMR leaders drew attention to the bill that the Government wants to pass by taking responsibility for, that the principle of local autonomy must be taken into account.
"You cannot step in from the central level and say what the local administrations are allowed to do and what they are not allowed to do, how much they have to spend on culture, sports, religion and so on. It cannot be accepted. That percentage of 2.5% has to disappear from the bill, because that means that it has overruled the local administrations and it is about local fees and taxes and you cannot impose what percentage you can give to certain activities," said Kelemen.
He went on to say that cultural establishments should be exempted from merging when they have less than 50 positions in their organisational charts. In his opinion, a merger in this case "would mean that you don't understand culture, you don't understand how cultural establishments, county museums, local museums, county libraries, theaters, philharmonics work (…) You cannot combine a folklore ensemble with a county museum or a library with a theatre house," said the UDMR national leader